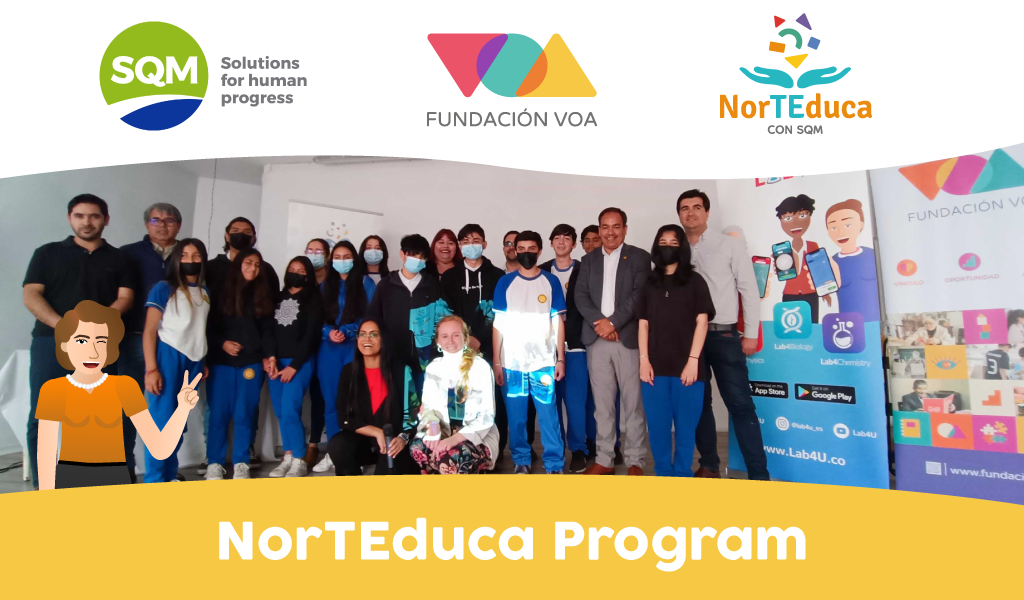 Science Education
STEM Learning
SQM, Lab4U and Fundación VOA to offer solutions that inspire students, support teachers and transform educational communities with the NorTEduca Program.
The NorTEduca Program was sponsored by SQM and tried to promote the use of educational technology, innovative methodologies, training, materials, didactic strategies, and support for parents and teachers in the field by creating a learning community that seeks to promote in male and female students, the benefits of studying STEM (science, technology, engineering and mathematics) careers.
Thanks to NorTEduca we were able to impact more than a thousand families from 7 schools: William Taylor Bicentennial Methodist High School, Sergio González Gutiérrez Mayor High School, La Tirana Elementary School, Oscar Bonilla High School, D-133 Arturo Pérez Canto de María Elena School, Diego Portales High School and the Carlos Condell de Tocopilla School; and included two stages: "Grow by Doing", oriented to Preschool and Elementary Education and executed by the VOA Foundation and a second phase implemented by Lab4U.
The first stage, "Grow by Doing", implemented by Fundación VOA, promoted the learning and development of reading skills in pre-school students, and the development of mathematical thinking skills, from 1st to 4th grade.
During the Lab4U stage, we carried out different activities with a practical approach, where the students were able to use the Lab4Physics, Lab4Chemistry and Lab4Biology apps from Lab4U to do scientific experiments and learn more deeply about science in the classroom.
"We are very happy with the results obtained by the NorTEduca Program, which through the strategic alliance between our company, Lab4U and VOA and the town administrations which are close to our operation facilitites in the north of the country, allowed us to collaboratively promote an innovative methodology of learning whose main attribute involves the entire educational community. This initiative, which is in line with our commitment to contribute to education, seeks to contribute, from an early age and at different levels, to a more equitable education and with a focus on the development of critical thinking that allows students to be interested in the math, science, technology, and research". Pablo Pisani, SQM North Zone Nitrates Iodine and Public Affairs Manager of Communities.
"In addition, and to reinforce the practical activities, SQM donated 14 tablets to the Oscar Bonilla high school, equipment that allowed the students of this institution to experiment with the Lab4U apps."We trust that NorTEduca is the beginning of a great change that we want to generate to increase student interest and performance in science and technology. Today in many industries and countries these are some of the most demanded specialties, which is why it is important that we help promote 21st century skills and position them as an attractive alternative for future generations. It is essential to promote the generation of talent in the north of our country, both for the mining industry and for the rest of the industries that will demand complete professionals and greater specialization in scientific issues", Komal Dadlani, CEO and co-founder of Lab4U.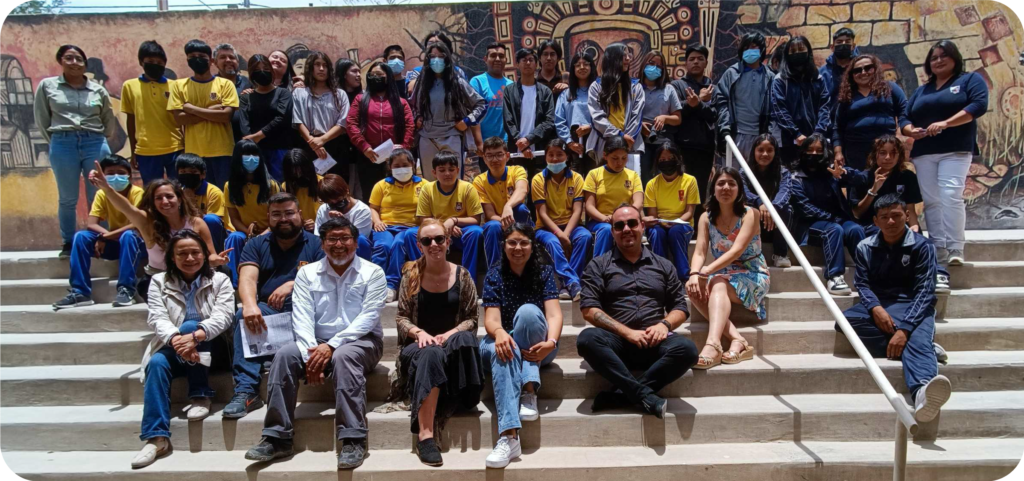 Thanks to the work of Lab4U, the students and teachers participating in the program were able to get closer to technology and science with innovative methodologies, training, materials and teaching strategies. Thus, young people learned about the benefits of opting for STEM careers (science, technology, engineering and mathematics) and we were able to impact their expectations and future professional development.