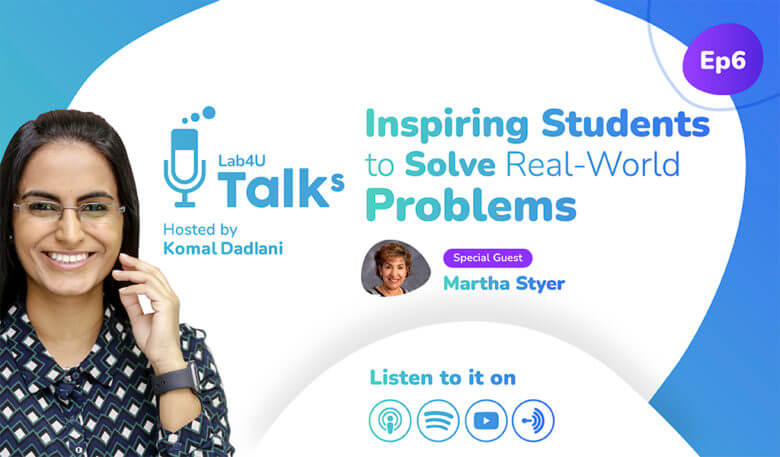 Lab4U Talks
Learning
Science Education
Lab4U Talks Episode 6: Inspiring Students to Solve Real-World Problems with Martha Styer
In our last episode, Komal chatted with Sylvain about how our approach to education is vital to shaping a robust future workforce. Today, we're excited to dive further into that educational piece with Martha Vargas Styer, a celebrated engineer and high school physics teacher based in Sacramento, California.
Martha spent 30 years as an electrical engineer working for the California Department of Transportation. An expert in her field, she was asked by the Federal Highway Administration to travel to other U.S. states and train engineers on fiber optic design for high-bandwidth demand technology, such as CCTV. She also served on a national panel for the Advanced Traffic Controller.
Her most recent stop, however, has been the physics lab at Cristo Rey High School, where Mrs. Martha is the Physics Teacher. There, she's encouraging the next generation of budding scientists, engineers, and mathematicians to consider how what they learn in the classroom (or, during the pandemic, in their own homes) can make a real difference in the world.
In this episode, Komal and Martha discuss her transition to teaching, how to prepare students for success no matter which path they choose, and the importance of discovery in and out of the classroom.
Episode's outline:
How Martha learned "what I want to be when I grow up" (7:18)
Why it's imperative to inspire a diverse group of future engineers (9:00)
How the pandemic brought Martha to Lab4U (12:28)
Why making mistakes is exciting (22:20)
The good that can come from remote lab work (31:10)
On Expertise and Education
Martha's work as an engineer meant finding effective solutions for problems that might not always be apparent but that shape our everyday lives. She discusses how foundational STEM techniques like data collecting and testing were crucial to finding solutions to real challenges.
Still, she surprised herself when she became a high school physics teacher. While she had considered becoming a math teacher upon retirement, physics was not originally on her radar—until she realized it was a way to use math to wow kids, thanks to the field's interesting labs and real-world applications.
On Diversity in Engineering
Enrollment of female engineers in educational programs is dropping. Martha talks about how when she was in school, the numbers were low, but they're even lower now.
"Initially [I began teaching] to see if I could engage more female students into engineering. Then being at Cristo Rey, I realized there aren't any latinos either, so I said, we need more Latinx."

Mrs. Martha Styer, Physics Teacher at Cristo Rey High School, Sacramento, California
Martha discusses the opportunity to empower a new generation of Latinx engineers. She stresses that it's not that kids aren't smart enough to learn, but that they need to be prepared to succeed. By creating a classroom environment that encourages hands-on learning, kids gain the confidence required to continue along the STEM path in college and beyond.
Lab Work and the Realities of Distance Learning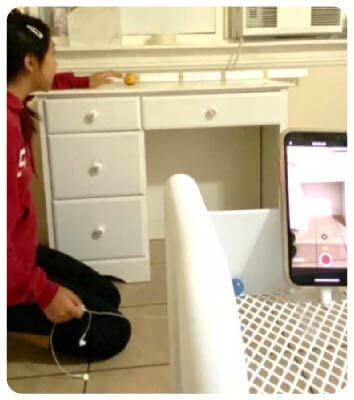 When Mrs. Styer asked about their at home lab experience, a student (the one in the left image) replied:

"The most challenging part of this lab was positioning my camera in a way that I could press the start button and also be able to roll the ball at the same time. The best part of this lab was when I figured out how to do both things at the same time and was able to finally see how the data all came together."
It is easier to captivate students in a classroom, where you can set up engaging experiments and demand their full attention. However, when the pandemic hit, Martha had to find a new way to provide her students with the same quality of education. A Google search led her to Lab4U, which has helped her recreate labs in her students' homes. Now, entire families might get involved in making something work. Students also are required to share selfies of themselves completing the labs, which keeps them accountable but also allows them to see how they are participating in a collective experiment (and experience).
The Importance of Making Mistakes
Martha gets excited when her students make mistakes because each one is a gifted opportunity to learn something unexpected and new. Komal and Martha then discuss how testing, practice, and error are all critical parts of the scientific process.
A Silver Lining
While it has been a difficult year for both educators and students, Martha reflects on how distance learning, particularly in physics, has provided a huge growth opportunity for her students. Whereas before some students might have been able to get by on group work when completing labs, now each person has to take responsibility for each step of the process. They have learned focus and discipline, two skills that will serve them well in college and are applicable to any area of life.
If you want to check out our conversation at Youtube:
Want to make a change in education too? Write us [email protected]