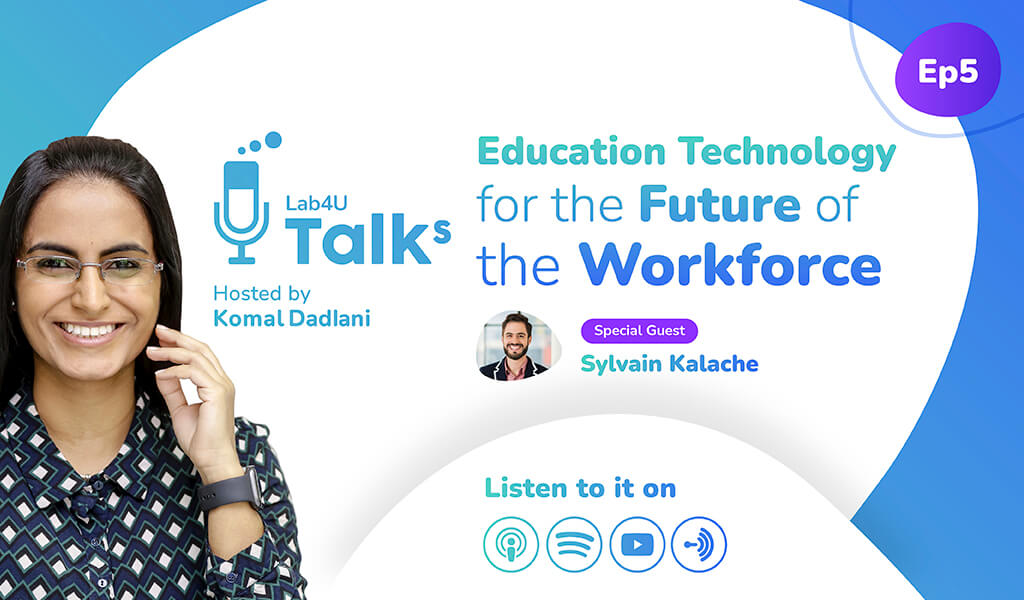 Lab4U Talks
Learning
Science Education
Lab4U Talks Episode 5: Education Technology for the Future of the Workforce
In the previous episode, we talked about how to catalyze STEM education for the next generation of scientists and problem solvers.
It is critically important for Lab4U to foster conversations about how to improve science education and what tools we will harness to empower science-minded students to ask questions and gain better science skills to solve the next decades' problems.
In this fifth episode, Komal talks to Sylvain Kalache, co-founder of Holberton, an education company providing tools, curricula, and teaching methodology training the next generation of digital talent at scale. Their two-year software engineering school's mission is to prepare the next generation of software developers through 100% hands-on learning.
Don't miss this important conversation about how, through the development of skills you can learn how to learn.
Episode outline:
Education: the one thing that hasn't changed 2:27
Holberton School's inspiration 3:30
Talent is universal, but opportunities are not – Democratizing education in Holberton School 6:33
Learning by making mistakes: knowledge is not enough, we need to develop skills for the future of the workforce 10:32
The importance of students diversity at Holberton School 14:38
We must rethink education: Reducing the gaps we see in education today. 16:14
Education: the one thing that hasn't changed
Education is one of the few things that has not changed in centuries. However, when you help someone at school it is called "cheating", but when you become a professional and have been part of the corporate world, collaboration is essential, which shows us how the educational system is obsolete.
Holbertons Inspiration
Sylvain's inspiration to create Holberton was based on the observation of ​​the lack of digital talent. In the last 5 years, Holberton has focused on creating digital talents by training Silicon Valley-grade developers in 9 countries. Sylvain affirms that "There is a lot of talent, but not quality education" since nowadays talent makes education. However, we are going at a very fast pace, and "These are great times to be in education today." Their first product, Holberton School, is present today in 9 countries and seeks to get the raw talent of the people who attend it. In some way, the COVID-19 pandemic has accelerated the way you teach today, and we must take advantage of this instance to rethink education in times that have already changed. The company also partners with other players, such as Pearson where they created a web developer online program offered in Brazil, or with Anahuac University with a DevOps MOOC course.
Democratizing education at Holberton
A few years ago it was imperative to have an academic degree to be part of the workforce. Today, this is fading, skills matter more than the degree you have. Companies are looking for talent to have the knowledge and know-how. If we go back a few centuries, the key to learning was to go to the monasteries to listen to monks give classes. With the Internet access to knowledge is no longer an issue. According to Sylvain, the key today is learning to learn, which will make you a highly desirable professional for companies.
Learning by making mistakes: knowledge is not enough, we need to develop skills
Sylvain made a very interesting comparison to show us that you not only need the knowledge, but also the skills to carry out whatever it is you are doing, taking bread baking as an example. Reading the best baker's recipe will not allow you to bake a tasty bread on your first try. Practicing, over and over will lead you to good results. Learning by doing, is key to any field, from baking bread to writing software.
Holberton School learning methodology has proven to be working across cultures, in Europe, Africa, North America, and Latin America.
The importance of Student Diversity
Holberton School students are very diverse: 30% women and 50% people of color, aging from 17 to 58 years old, coming from all walks of life, from former delivery person at Rappi to breakdancer. The school does not require any degree of specific knowledge to apply. Blind and automated, the admission process is looking for talent and motivation, betting on the student future, rather than their academic past.
We must rethink education: Reducing the gaps we see in education today
Sylvain thinks that social skills are very important and that communication is critical for students' and workers. Sylvain thinks that learning to learn, critical thinking, and creativity, as well as not putting the teacher as the only source of knowledge shall be key to education, at any age.