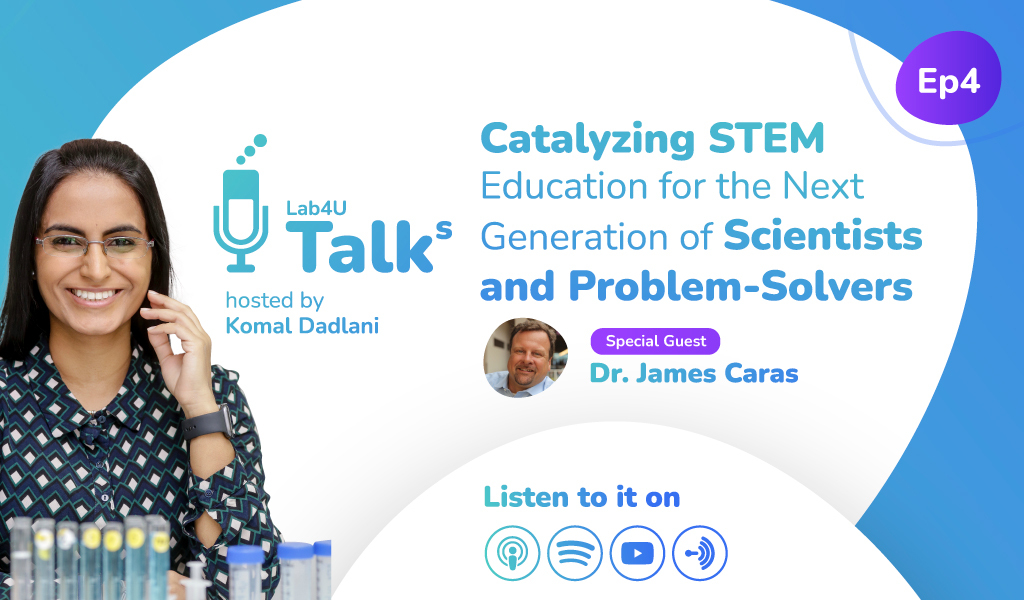 Lab4U Talks Episode 4: Catalyzing STEM Education for the Next Generation of Scientists and Problem Solvers
In the previous episode we talked about how we must reset the way we teach science, which is vital for our entire future and especially considering the current context we are living in.
For Lab4U it is of utmost importance to foster conversations about how to improve science education and what tools will we leverage to train students interested in science to ask questions and acquire better skills from science to solving the problems of the coming decades.
In this fourth episode, Komal talks with James Caras, a leader in STEM education, a mentor and advisor at Lab4U, a serial ed-tech entrepreneur and a brilliant scientist and educator, who is also CEO/Co-Founder of Catalyst Education, where here they are helping hundreds of science educators and faculty members with their solutions that allows educators and instructors inspire students to become the next generation of scientists and problem solvers.
In addition, he founded Sapling Learning, which was later acquired by Macmillan and continues to impact millions of science educators worldwide.
Don't miss out on an important conversation about how, through the right methodologies and tools in STEM education, students in schools and universities, currently supporting the formation and training of the new generation of scientists.
Episode outline:
00:00: Presentations
04:00: Teaching students the love of science
11:00: How has this experience been lived in education in the midst of the COVID-19 pandemic?
13:30: Why is this not just virtual labs or a virtual experience? What's the difference between real experimentation and virtual labs?
15:30: The development of virtual laboratories as a learning platform
21:00: What has happened in STEM education considering COVID-19?
25:00: Conclusions and learnings
This opens different perspectives for the students, who, in James' words, are tired, overwhelmed and afraid to feel that many times it is a waste of time to explore and learn the use of new technology that allows the development of virtual classrooms, virtual labs and virtual conversations that are far from the environment that the schools lived before the crisis of COVID-19.
Involving students in science
The COVID-19 pandemic has allowed experimentation with science education, so that today's students can learn to use software that allows them to acquire knowledge in science and get involved, along with the entire school community, in forming a much more empowered perspective, regarding issues related to the use of digital technologies and distance learning.
In Lab4U we know how important and crucial it is to prepare students, teachers and members of the academic bodies of universities, especially those that teach science to students, to build platforms that allow the development of an education in the service of science.
James Caras, in his conversation with Komal, explained that being persistent in learning this topic with students, considering how difficult this situation is for many people, has allowed us to know the concerns and challenges that universities and science departments have in experimenting with scientific learning from different platforms.
Leading the challenge of teaching science
Some of the main topics discussed in this episode were:
Skill development for students and instructors in science education
Student experiences in learning with virtual laboratories versus real experiments and real data
Challenges of science in education for future generations.
About how students are experiencing the challenge of teachers and academics to teach them the use of new skills and tools, this was commented by James Caras, as part of a search for different topics, especially in the development of chemistry or technology courses.
The development of this technology is linked to the way in which students arrive at the learned contents, being this a challenging task for the teachers. In many occasions, these topics linked to science can remain incomplete if there is not a feedback, being transcendental the search of results, hypothesis raising and visibility of the experiments.
An experience that becomes a legacy
From James Caras' experience, it can be understood that strengthening science education requires several challenges to make the student experience as enriching as it would be in the absence of a pandemic.
Nevertheless, with or without COVID-19, science in education has allowed, with the virtual and remote modality as the way to practice education during the last months, the development of the spaces to learn science such as virtual laboratories.
This has been a coordinated work between instructors and students, regarding the assimilation and understanding of the software's management, through the correct instructions, content and specific material. In this way, the learning has allowed to deliver the skills that are needed more efficiently and quickly in the teaching of these topics.
Thus, the virtual experience when entering a laboratory is key in the development of the learning process and in facing challenges regarding the answering to problems, formulating hypotheses and acquiring theories that are also at the service of scientific knowledge, as has been the work of James Caras during his implementation of this technology.
The value of this knowledge and learning is paramount in the way we deal with the acquisition of science for ourselves and our future. As the education currently being delivered, the role of science has not yet been projected with the acuity that one would expect, and therefore Lab4U makes available this and other topics to be in tune with today's need to rethink science education.
What can we continue to learn from this technology in education?
According to James Caras, it is crucial that learning to train future science professionals is accompanied by a good experience in the online setting, because students are currently tired and the current context has overwhelmed both them and teachers.
That is why it is so important that there is a concern to strengthen skills that scientists need to develop in order to solve problems, keeping in mind what is necessary for the future of the workforce One of the opportunities that the handling of this technology has had is the construction of a structural design of the content that is being delivered by the instructors, being key the formation in the virtual classroom and the vision that in the future these generations can develop to the challenges of putting education as a link for a science that is closer and adaptable to the advancing times.
Experiencing science in virtual mode is what allows us to continue learning with enough tools for students, teachers and educational communities to consider factors such as the use of new technologies and virtuality to bring much closer the vision they may have about science to the debate, which, despite the distance, must exist as a part of the educational process.
In this challenge of transformation that students and teachers have experienced in recent times, some skills must be more stimulated, since the management and performance of these platforms are the engine of a reality that we can not fail to consider in strengthening scientific activities in the classroom.
Therefore, in Lab4U we want students to feel that they are progressing and not wasting their time with this virtual modality, and thus continue to empower and deliver skills to professionals, teachers and members of the schools so that this process is one of understanding, learning and living science.
Valuing scientific knowledge, the delivery of support material and the management of a team of professionals who teach future generations is crucial and a priority for Lab4U in generating a change in the necessary direction to deliver knowledge in a time as complex as this.
Related post
Lab4U Talks. Episode 3: Resetting the way we teach science is vital for all our future
You can listen to this podcast on Apple Podcasts, Spotify and Anchor.